When your shipment with USPS says "USPS awaiting item," it means that a record for your parcel has been generated at USPS, but they have not received your parcel yet.
Once it reaches the USPS post office, they will update the status to "Arrived at USPS Facility," The process will go as usual.
However, things don't always go this smooth, and you can face some issues with these delivery companies.
For example, you create a shipping label for your package and have USPS pick it up.
You get busy with your daily routine thinking that your parcel is on its way to its delivery location, but when you check the tracking status of your package, it says "USPS awaiting item."
You will probably get a bit worried at this point because you know that the USPS picked up the package, yet your status says that USPS is still awaiting the item.
There can be several reasons why USPS status doesn't update regarding a particular parcel or package, such as your parcel not being scanned at the USPS office before it was dispatched to be delivered.
Let's dive in and discuss the details of why USPS shows prolonged "awaiting item" messages.
What is USPS awaiting item?
If you place an order on some website for a common item or a bunch of items and choose USPS as your medium of delivery, you'll be given a receipt for your order which will also have the USPS tracking number on it somewhere.
You can use the tracking number to keep track of your USPS parcel.
You can get information on the current status of your parcel by using the tracking number of USPS.
USPS updates your parcel once it reaches their distribution center, and an outbound scan is done on the shipping label.
All USPS deliveries start with the "awaiting item" status.
USPS awaiting item status message means that a record for your parcel's delivery has been created in USPS's system and that USPS is awaiting your item.
Once the mail carrier picks up your parcel at your place or your seller's location, USPS will update the status of your parcel to say that they have picked it up and it is in transit.
Sometimes, however, USPS doesn't scan the bar code of your parcel's label and simply picks it up.
In such cases, while the item is in the hands of USPS, your tracking status will show "USPS awaiting item" as the system wasn't updated.
It also happens that USPS doesn't update the status once throughout the delivery, and while you are thinking that your shipment was probably lost, you get surprised when it is delivered to you at your doorstep.
The final tracking status is sent when your parcel reaches the destination post office.
There are two types of "awaiting item" messages you can get from USPS.
Arrived shipping partner facility, USPS Awaiting Item
When you place an order on eBay or some other online store like Amazon, you can select USPS as your mode of delivery.
USPS doesn't always pick up parcels by themselves, and rather they use a third-party shipping partner.
When USPS uses a third-party shipping partner to transfer your shipment, the first tracking status of USPS will say, "Arrived shipping partner facility, awaiting item."
This means that your package is in the hands of the third-party shipping carrier and has not yet reached the USPS post office.
While the parcel is in the hands of the third-party shipping carrier, USPS has no way of tracking your status.
You will be given a pre-shipment info record along with your order receipt, and you can track the status of your parcel on the website of the third-party carrier.
Once your parcel has been delivered to a USPS distribution center, USPS will take over the process of sending you the tracking statuses of your parcel.
Don't worry too much if the status of your parcel isn't updating because most of the time, the parcel is in the mail stream, and you will receive it on the delivery date.
Contact the support team if you are past your delivery date, and the order has still not arrived.
Shipping Label Created, USPS Awaiting Item
When your shipment is made entirely through USPS, and no third-party shipment is involved, USPS will send you the status "USPS awaiting item" once a label for your shipment is created.
USPS sends tracking statuses to the email address and mobile number you provided them while purchasing their service.
Note that if you print the shipping label at your home, you receive the status "USPS awaiting item," and it is not updated until you drop it at the post office of USPS and an outbound scan is done.
Always try to make sure that the personnel at the post office performs a scan when you drop your parcel because statuses are only updated if a scan is performed on your item.
When to expect delivery after "USPS awaiting item" status?
Once you have received the "awaiting item" status from USPS, it means that a record for your delivery has been generated in the USPS system, and they are expecting your item.
Once your package reaches the USPS location, you can derive estimated delivery based on your chosen service.
Also, ensure that if your parcel is an item you purchased from some online store, USPS will not give you an estimated delivery unless they have a record in their system.
Let's say you purchase something on some website, and it will take some time for the merchant to process your order and payment.
Once your seller confirms your order, they will send it to USPS (assuming you chose USPS as your mode of delivery).
Once the parcel reaches USPS, you can expect the delivery window according to the service you chose, such as Parcel Select Ground, Ground Delivery, USPS Priority Mail Express, and much more.
Most of the online stores choose USPS Retail Ground Parcel as their mode of delivery because it charges less, but it can take up to 2-8 days to deliver your parcel.
Your USPS package might also contain the package origin zip code, which can be useful for contacting support if any disputes arise. 
USPS Parcel Select takes time to deliver
USPS Parcel is one of the cheapest options to send large amounts of parcels of large parcel size.
The parcel size matters in determining the cost of the service, so the more heavy your parcel is, the more you'll have to pay.
It takes anywhere from 2 to 8 days for your parcel to be delivered using Parcel Select.
Note that Parcel Select is a normal posting office that utilizes ground transportation of normal postal services.
It doesn't guarantee you that your parcels will reach their location on time.
Parcel Select Ground is also the service of USPS with the highest rate of getting packages lost which causes disappointment with items.
You are not given an exact date for your delivery if you use Parcel Select, but you can always calculate how long it will take to reach your delivery location based on the destination zip code and your location.
When you purchase USPS service and create your label, they will send you an email message which acts as an email confirmation message since the ground service is used for a large number of parcels.
Make sure that the email you use for your order is your main email, as you will receive an email message from them on this mail.
You can send an email update request if you want to change your email, and USPS customer care will send you a confirmation email containing further steps to complete the process.
When does USPS update the tracking status of a package?
The process of parcel tracking starts from the moment a label is generated for a USPS shipment.
When you place an order on some online store, your seller might select USPS as the shipping company for delivering your parcel.
For example, eBay uses first-class shipping of USPS for its customers' orders.
USPS sends its customers tracking status messages regarding their parcels, so customers are always kept in the loop about the whereabouts of their shipments.
"USPS awaiting item" is the first status that is generated when you purchase USPS service. This status is updated when a USPS delivery person picks it up and performs the initial scan.
Note that sometimes USPS employees do not perform scans on the parcel, which can be one reason your status might not update.
Another reason USPS might not update the package is because USPS passes parcels through a sorting center where they get scanned.
In the USPS sorting center, your parcel is scanned, and the status is updated, but sometimes the scan is not successful, and the status does not update.
It is one of the main causes that there is a problem determining the estimated delivery time since the tracking info is not updated as it should be.
Also, note that your tracking status will not change until your parcel reaches a regional center.
Once your order has been dispatched, its' status will only change once it reaches the regional center, where it will be processed and sent for delivery.
Your tracking info heavily depends on the scans that USPS needs to perform.
While USPS does give you tracking updates, it also needs to make sure that it updates your tracking information accordingly because otherwise, the tracking updates do us no good.
You might think of your package as a lost package, but don't worry, as USPS often forgets to provide tracking info updates because the parcels don't get scanned.
A lost package is still a package sitting somewhere in some USPS warehouse or USPS van, and it will surely reach its' destination one day.
If your lost package is still not found after numerous days, you can try contacting USPS support about your lost package.
You can access the detail page of your package through the package link you received while placing an order.
You can find your package link in the order details when you purchased the USPS service.
USPS is not updating the status of my parcel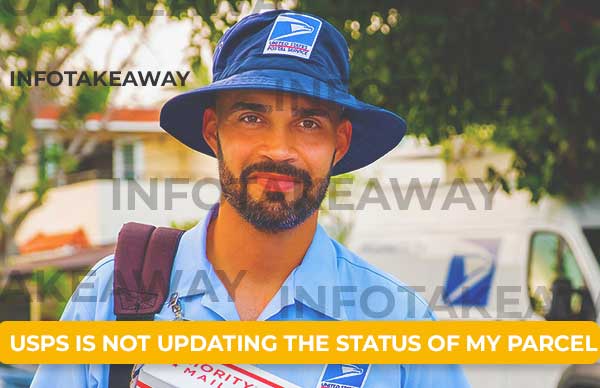 If you've waited for a few days or a week while your delivery date is past due and your tracking status still says "USPS awaiting item," it might be lost.
Note that there is almost no chance of this situation arising; it is 0% with larger packages.
You should contact USPS support through either phone or email, and they will respond to you in a couple hours.
You can ask them to perform a package search to look for your parcel.
It also helps to give them as much information as possible, such as destination zip code, the last status of your parcel, and invoice code.
Entering your label into the tracking system can give useful insights into when your parcel's status was last updated.
You should definitely ask them to perform a package search in the lost package section where they store parcels that lose their labels or don't get delivered successfully.
It also matters a lot whether you selected domestic shipping or international shipping when it comes to tracking the exact status of your USPS parcel.
Please note that it is quite common that the status of parcels does not update as commercial shipping is a very demanding area, and they can face some issues in updating the statuses of parcels.
To make sure you don't face such issues in the future, you can try using an insured package that gives you insurance if the company loses the parcel.
However, you probably don't want to spend too much on insured shipments if you use Parcel Select Ground or Mail delivery.
FAQ – USPS awaiting item
USPS is one of the best postal services working in the united states, and it provides you with the current tracking status of your parcel.
There are several common questions that an average customer might have in their mind who are familiar with the services of USPS; therefore, we've taken advice from people along with our personal opinions on the matter below.
How many delivery days are left when I receive the "USPS awaiting item" message?
USPS keeps a tracking history of your parcels, and it sends you updates about your parcel anytime it updates the tracking status.
The "USPS awaiting item" is the first status created for every USPS parcel, and it acts as delivery confirmation.
It means that your parcel has just been entered into the USPS system, and it will take them 2 or 8 days or complete the delivery depending on the service you chose.
You can look up the details of the USPS service you chose to know the exact delivery standard time for your parcel.
Remember that the estimated delivery date can vary depending on the type of service and your destination.
Is USPS reliable?
USPS is one of the best postal services in the states to send all kinds of parcels.
USPS delivers almost everything from simple mails and packages to huge quantities of parcels.
USPS can also deliver your expensive item and make sure that the expensive item reaches the hands of your delivery location.
If you send an expensive item, you can also use the USPS insured item service, which costs slightly more but provides you insurance of up to $5000.
You can guarantee that the exact item you sent will reach your delivery location.
Does USPS send tracking messages?
USPS sends you a delivery message and shipment notification email any time it reaches one of their locations and is processed by a postal worker.
You can always contact their customer service to help you provide further details if your tracking statuses are not updating.
USPS performs a manual scan when the postal workers pick up your parcel and additional scans whenever it reaches one of their centers or the destination post office.
USPS is known for maintaining a good delivery standard, so you rest easy and expect your parcel in the delivery estimate window.
Conclusion – Final Thoughts on USPS Awaiting Item
When USPS sends you the "awaiting item," it means that your order has been registered in their record and they are expecting a parcel.
USPS will pick up your exact item from a store or your house, and you can also drop it off at the office.
You don't have to drop your mail in person because they can come to pick it up from your home.
While USPS does send you tracking statuses, note that a tracking status is only sent if USPS scans your parcel.
This means that USPS didn't scan your label into tracking system.
Therefore you should try to go and have an actual person perform the scan on your parcel to make sure that your delivery process is smooth.
If your delivery status is stuck at "awaiting item," it simply means that not a single person performed a scan on your delivery label, and your current tracking will update once it reaches one of the USPS tracking sites.
There are also intermediate tracking steps that your parcel will get scanned at, and these are the tracking sites of USPS.
The benefits of having an actual person perform the scan on your parcel give you the ease of mind and an understanding of how the tracking procedure works at USPS.
Your USPS shipping deadline might vary depending on the service you chose, and you can get an idea of the delivery date through the status tracking message.
If you don't get your parcel by the shipping deadline, you should wait a day or two before contacting USPS customer support.
If you receive the out for delivery notice, rest assured that your order is now in the final steps of the delivery service, and it will reach you soon.
We hope you found this blog informative and creative. Comment in the comment box section for any questions or suggestions. Also, look at our other blogs "What does area code 800 means?", "What does DHL "with courier delivery" means?", "What is payment revision method (Amazon)".