Wall decor doesn't have to be complicated. A lot of times, you can even use supplies you already have on hand in your house!
You don't need to spend hours or lots of money to make these DIY wall decor ideas happen.Instead, you can make them in minutes and maybe even less! Here are some awesome and easy DIY wall decor ideas that will inspire you to get crafting right away, and totally transform your home in the process!
1) The Picture Frame
Chances are, if you're in need of some decoration ideas for your walls, you're not looking for something simple like an accent wall.
While we're not going to deny that it can be nice to be minimalistic and keep things simple with just one type of decoration (a framed painting or two), we are always on the lookout for projects that will add more elements to your space.
If a blank white wall is what you crave, we have a little something to inspire you: the picture frame! A wall full of mismatched frames (and other decor) will make any room seem bright and inviting.
Plus, depending on the frames you choose, you can really display your personality and interests. Is your favorite TV show Friends? Grab some Friends quotes from Google Images and find a frame. Is music your love? Try out those lyrics from Drake's latest hit single as inspiration for creating something cool and fresh.
Frames are inexpensive too, so grab lots of supplies at the dollar store or Goodwill – they're sure to create wonderful memories every time you walk into your home.
2) The Embroidered Pillow Case
Wall decor is such a crucial part of creating a cozy space. Nowadays, however, it can be tough to find traditional pieces that are also decorative.
Luckily, this embroidered pillow case pattern might be the answer to your prayers! Sewing these vintage-inspired needlework pillows will make you feel like a total boss because they're way easier than they look.
Plus, you can make them in any size or color scheme so they'll go with any home design aesthetic.
You can even customize each one by adding initials or monograms! Here are 5 steps to get you started:
Trace and cut out the front and back fabric pieces.
Place the front piece over the back piece and line up all four corners, then sew around all four sides.
Fold over one corner and stitch together from top to bottom using a straight stitch, repeat on the opposite side.
Finish stitching along both sides, making sure not to sew all the way up at either end (this will create a pouch for stuffing).
Fill with cotton balls or feathers for comfort before sewing shut.
3) The Reclaimed Wood Bookshelf
Add a unique spin to your home decor with a beautifully made reclaimed wood bookshelf. With less than $100 in materials, this bookshelf will not only store your books and provide extra storage, but also add texture and beauty to your living space.
Below are some of the steps you will need to follow in order to complete this awesome project:
Create the frames by cutting two boards into 4 x 8 pieces. Use one side of the board as the face that you want facing out and save the other side for the inside support.
Cut plywood (two pieces) at 3/4 x 6 for shelves, then sand smooth.
Glue together three pieces of plywood on one end to create a triangular shape and attach to the front frame. Attach the triangular shape to the back frame using screws or nails.
Paint everything white and let dry.
Drill holes into the sides of shelf triangles where they attach to the back frame. Insert dowels or wooden pegs into drilled holes for structural stability. Fill the hole with glue and insert dowels or pegs from opposite sides until secure.
4) The Lace Doily
This very simple and inexpensive decoration can be put anywhere in your home to add a touch of charm. These are easy to create from almost any shape lace or ribbon. To create this look, all you need is: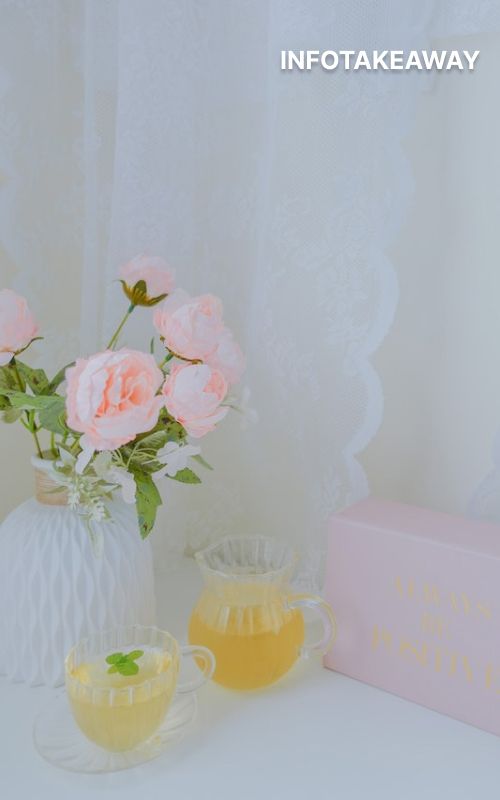 Some lace or ribbon (a piece will do) A crochet hook (to tie the string onto) Some thread
First, you'll want to measure out how long you want your doily to be by laying the length of lace flat on the ground and adding two more inches for the beginning of the knot.
You can cut it as close as possible if you have an exact measurement in mind, but for less than perfect results, simply fold one side over onto the other and use a needle to seal it in place.
Next, start tying knots with the end where you just measured off; these knots should be about an inch apart.
Once you've reached the desired length, slip some fabric under the loops at each end and pull tight – now each loop has been tightened into place.
Finally, take a small piece of thread and attach it to one end of the doily using a crocheting technique called single crochet.
Then go back through each loop with another single crochet stitch until you reach the opposite end of your work – secure with another knot and then trim away any excess string that remains.
5) The Flower Spray Painting
First, cut out a long strip of paper from white printer paper to resemble a flower stem. Secure it to the wall with double-sided tape or push pins in two places so it is standing upright on the wall.
Then take your spray paint and make small dots about 2 inches apart all around the width of the paper.
Fill them in with a darker color for an organic look, or you can use a solid color to create bolder stripes that really pop!
It's just that easy! Just note: don't let children under 12 help with this project because it can be dangerous.
Mural Painting – Here's another great idea if you have a lot of wall space to fill up! Grab some large sheets of paper (about 4 feet by 8 feet) and start painting what inspires you on the sheet. The best part? You can frame them afterward, hang them on the wall, or store them away until you're ready to use them again!
Paint-Chip Inspiration – Inspired by paint chips? Get creative by taking off all the labels on one side and then sticking them randomly onto your desired surface.
Try layering different colors too for more interest! There are also many more ideas like these; head over here for more details.
Graffiti Masterpiece – Looking to add a little graffiti art to a blank wall in your home but don't want to break any laws or get into trouble with a neighbor?
Take your spray paint outdoors and let out some inner Banksy with a bit of creativity—just remember to stay away from other people's property!
The possibilities really are endless when it comes to DIY wall decor, so find something that inspires you, get out those paints, and create something beautiful in no time at all.
In addition, if you have children in your home be sure to keep an eye on them while they're using tools around their house because accidents do happen.
6) The Vase with a Twist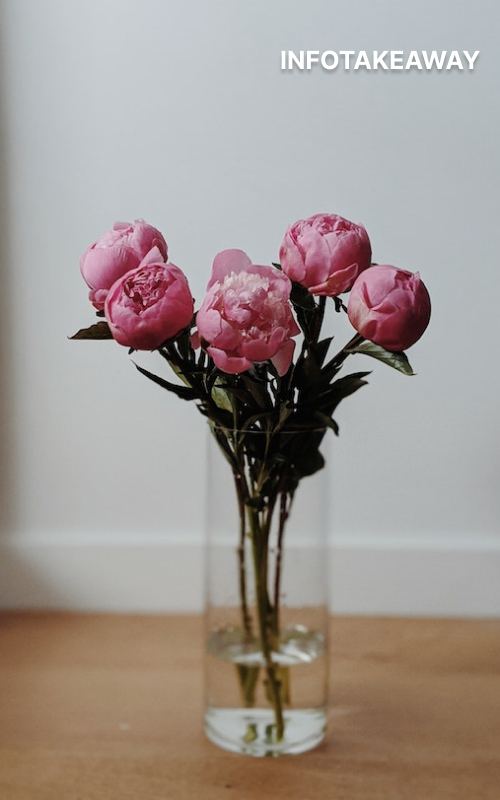 Need an artsy statement piece for your wall? The Vase with a Twist is the perfect way to add color and texture to any room.
Take a simple vase and paint it a fun color. We recommend choosing a bright hue that will stand out on your wall.
Red, yellow, orange, or turquoise would all look fabulous! Be sure to paint the inside of the vase as well as the outside, so it really pops when you fill it with flowers or other decorations.
To make your painted vase pop, even more, consider adding stencils, glitter or polka dots to give your decoration extra flair.
You can also mix up different colors of spray paint and create a tie-dye effect on the vase's surface.
Want to go all out? Stick sequins onto the exterior using hot glue (perfect for holiday decor!). Finally, drill holes in your vase where you want them.
We suggest one at the top and one at the bottom – then insert screws into each hole until they're securely fastened in place.
Wrap twine around both ends of the screw at least six times before tying it off in a knot.
You can also try wrapping wire instead if you prefer not to use screws; just be sure not to cover up too much of your vase's surface with wire coils or else it won't be able to hold anything in place!
Experiment with materials like a hemp rope, jute cord, or ribbon to create different effects. Place your vase on a table and admire your handy work!
Give yourself a pat on the back because you've now got an awesome new centerpiece for your living room or bedroom.
Fill it with colorful blooms during springtime or Christmas lights during the holidays. When winter rolls around, swap out flowers for cozy pinecones! It'll remind you of festive, snow-covered Christmas trees.
And don't forget about Valentine's Day either! Bring home some pretty red roses and swoon over how romantic it looks sitting on your nightstand.
Whether you're looking for creative ways to show off your style or practical tips for creating a personal touch in every room, there are plenty of ways to customize this decorative project.
7) The Mirrored Plaque Artwork
This amazing piece of wall decor is an inexpensive, easy and quick project that you can do on a whim. It will take only 30 minutes to get it up and look as amazing as it does in the photo.
All you need is a mirror, paint (blue or whatever color your heart desires), brushes, tape measure and measuring tape, a pencil, a ruler, screws, and a screwdriver.
Paint the walls to match your chosen shade of blue or white using the tape measure to ensure straight lines. Allow time for the paint to dry before proceeding.
Once you have let the paint dry thoroughly throughout your home, use your pencil and ruler to mark out where you would like each plank of mirrored plaque artwork on your wall before attaching it with adhesive. Use a small amount of painter's tape to hold everything in place while you work on taping off the rest of the wall.
Use your measurements from step one to figure out how much space you'll need between each row so that they don't overlap or touch one another.
Use this same measurement when taping off the rest of the room so that there is no space left unaccounted for by painter's tape, then remove any excess with scissors if necessary.
Once you've removed all excess painter's tape, apply enough adhesive within the perimeter created by your measurements to hold everything together tightly until it's been permanently installed on your wall.
Screw all four corners into place and enjoy!
8) The Typography Prints
Upcycling is what one might call the backbone of modern home decor. Crafty souls around the world are creating new, stylish pieces out of old, unused objects.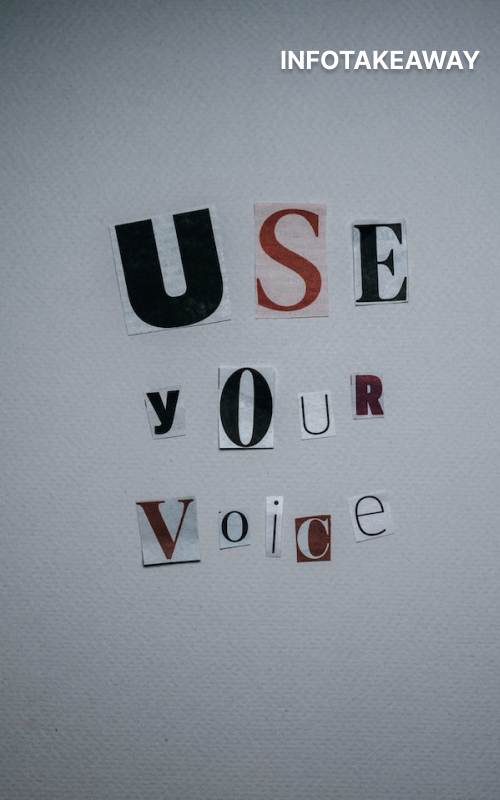 It takes patience and a skilled eye to transform discarded items into showpieces for homes big and small, but it's time well spent when you have an incredible result.
To that end, I've compiled a list of nine jaw-dropping DIY wall decor ideas with detailed instructions on how to recreate them at home. Let's get started! -Hanging Fabric Flowers: An easy way to liven up any space in your home.
They're great as décor in the living room or bedroom, or as a focal point above your mantelpiece.
Reclaimed Wood Frame
Take reclaimed wood from barns or trees and turn it into frames for artwork and photos. The natural texture will fit perfectly in any rustic or shabby chic-styled room.
9) The Cutout Letters
The Cutout Letters are a great wall decoration for any space. With just some paper, scissors, and tape you can create this whimsical design.
The project is fairly easy, but it's perfect for hours of entertainment on the weekends or afternoons at home.
All you need is A4 or letter-sized paper to make these cute letters to decorate your walls with! Here are the steps:
First, cut out a letter and place it up against a wall. Tape it up where you think you want it to stay. Then start at one end of your paper and slowly make your way across, tracing with a pencil as you go.
You can then simply use scissors to cut along that line, making sure to keep those pieces of paper taped in place for now!
Repeat for all letters. Now fill in any blank spaces by carefully trimming on either side of each letter until all of them fit together seamlessly! Finally, just tape each piece down as needed or hang them with string!
Conclusion
Here are the nine DIY wall decor ideas that will give your home a fresh new look and make it worth looking at twice.
Try out some of these simple, quick, and budget-friendly ideas to get inspired. It's time to transform your home into an awesome and welcoming place for friends and family. Have fun with these hacks!
You might also like "succulent wall planter" and "brick wall decor". Check our homepage for more similar content.