Africa is a continent known as the home of many wildlife, but you may find it interesting to know that there are no tigers in Africa. African animals include several big cats but tigers are not on that list.
We've all seen it in movies and cartoons, the vast plains and lands of Africa where animals roam free.
The first Lion King movie also seems to be set in the African continent and you may have noticed that it didn't feature any tigers.
Africa is a natural habitat for several big cats, but tigers don't live in Africa. Africa has grassy planes and it is home to the lion family of cats along with other big cats such as leopards, and cheetahs.
While there are tigers in Africa, they are living there in special conditions. Let's discuss the details of tigers and big cats in Africa.
Tigers Do Not Live In Africa
This might have come as a shock to many of you reading this but there are no tigers in Africa. Tigers live in jungles and well, Africa has doesn't have that many jungles. Another shocker.
There are two main misconceptions about the geography of Africa. One group of people have the wrong information that most of Africa is nothing but a vast desert, the other believes that there are only rainforests and jungles in Africa.
Both of the above statements are incorrect. While Africa does have deserts, such as the Sahara Desert, and rainforests such as the rainforest along the Zaire River Basin, most of Africa is just normal land.
By normal land, we mean most of the vegetation zone in Africa are grasslands, one of which is called the Savannah.
Savannah is the place where most of Africa's wildlife do their business. On a normal day, you can find herds of lions lazing around, hippos in their ponds, and elephants.
Though you might ask, why are there no tigers in Africa? Were all the tigers in Africa hunted down? Or did the tigers not like the warm weather and move somewhere else?
The answer to that is simple because tigers have never lived in Africa and that the habitat of Africa is not suitable for them.
Where Do Tigers Live?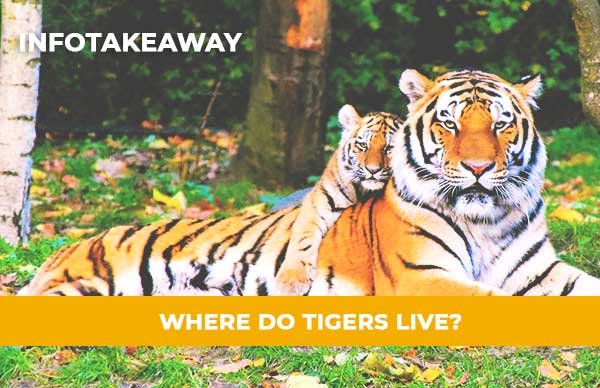 If not Africa, then where do the stripey and big furballs known as tigers actually live? Tigers, regardless of whether they are a tiger subspecies such as the white tiger, are found in the continent of Asia, specifically, around 13 countries of Asia.
Tigers are found in the following countries:
China.
India.
Nepal.
Russia.
Bangladesh.
Indonesia.
Malaysia.
Plus some other countries.
India is the largest home to tigers followed by Russia and other countries.
Sadly, the tigers are nearing extinction as there are around 3900 tigers left in the wild. Many reserves have been built throughout the world to protect the tigers from going extinct.
What we just talked about were the tigers in the wild. There are many tigers that are in captivity in camps, zoos, and other artificial lands.
The reason for this varies but one of the major reasons is to try to introduce tigers to the region of Africa in hopes of increasing their number. There are many tigers in South Africa that are in captivity.
Though all attempts have failed to introduce tigers to the region and savannah of Africa. The wild tigers living in South Africa are a bit different as compared to tigers, Bengal tigers, and other tigers found in the world.
Why Are There No Tigers In Africa?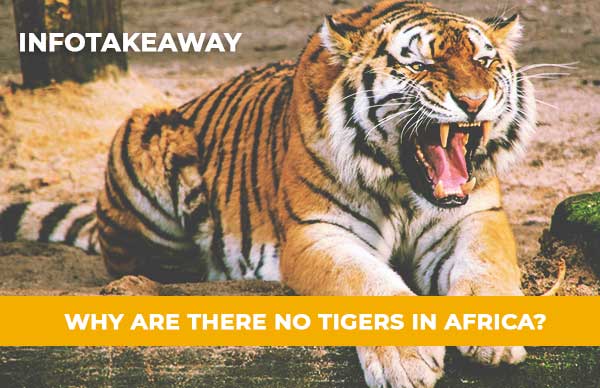 It still remains a mystery as to why there aren't any wild tigers in Africa. This is because Africa is not a suitable habitat for tigers. The African habitat is best suited for lions, cheetahs, and other big cats found in the region.
It is believed by many scientists that in the old, old ages, big cats used to live in Asia.
A few of them fled away from the pack and travel all the way to Africa.
Now we know how lazy cats are as they all share common ancestors, regardless of size. It must have decided to stay in Africa for good and as a result, after several hundred generations we see lions, cheetahs, and tigers continents apart from each other.
Do note that this doesn't mean there aren't any tigers in Africa. It just means that there aren't any wild tigers in Africa. Tigers are found in special reserves and zoos in Africa. Many tiger cubs were also raised in regions of South Africa but to no avail as they couldn't be sent to the wildlands of Africa.
Tiger Sanctuaries In Africa
As things stand, tigers can go extinct and we must do everything we can to fight them. This is one reason why many sanctuaries are being created in Africa to house captive tigers and train them for the wildlife of Africa.
The reason for building such a nature reserve is that the tiger might be able to adapt to the region of Africa. So far, there haven't been any successful events of these happening.
Moreover, this approach has been criticized by many experts as the tiger is a predator that preys in stealth.
Tigers can't survive in the open and grassy lands of Africa so there really isn't a need to build a tiger sanctuary in Africa. Tigers can't mingle well with the wild animals of Africa.
Tiger uses the thicket and cover of the jungle so it can't survive in Africa.
Adding on to the fact is that the sanctuaries in Africa have been accused of not providing adequate resources to take care of the tigers.
In fact, it has been reported that these sanctuaries might just be a front to attract visitors or sell the tigers to buyers as pets as is evident by people having tigers as pets in Africa. Many of these tigers are also placed in national parks to increase visitors.
Facts About Tigers
Now that we've gone into detail about tigers in Africa, let's look at some facts regarding tigers in general.
Tiger Is The King Of The Jungle
We've always associated lions as the king of the jungle but in actuality, lions have never lived in jungles so they aren't really the kings of the jungle. You can say that the lions are the kings of the savannah where they are mostly found.
In fact, tigers are the kings of the jungle. Tigers are natively found in rainforests and jungles of several countries of Asia. Take any kind of tiger, Bengal tigers, for example, they are also found in the jungles of Bengal and not in some grassy lands.
Remember jungle book? The king of the jungle was an animal species of cat known as the tiger, not a lion.
So there you have it. Are tigers on top of the food chain in the jungle?
Well, they kind of are, as there is no predator that hunts them unless we start counting humans who made them near extinction in the first place.
Tigers Live Alone
You might be amazed to know that tigers don't live in herds as lions do. Lions live in herds and they don't travel alone. Usually, a herd includes 15 lions out of which 4 are male. Male Lions are lazy as they don't hunt, the female lionesses hunt for food.
This doesn't mean that the lion doesn't hunt at all, they only do it when there is an absolute need for it, otherwise, it's the job of the female lions to hunt for food. We need to do something about this gender inequality.
Tigers, on the other hand, are true beasts as they travel and live alone. Even the mother tigress takes care of her baby tiger for only 4-6 months, and afterward, they are left to fend for themselves.
Who do you think would win a fight? A lion or a tiger? We're betting our votes for the lone wolf known as the tiger instead of the lazy dictator known as the lion. We purposefully left out the African tiger that lives in sanctuaries as those poor oddballs can never be expected to fight.
There Are Many Subspecies Of Tiger
You might be surprised to know that there are many subspecies of tigers. We personally like the white tigers the best. They just look so majestic with their white fur and blue eyes.
There are also other types of tigers such as Malayan Tiger, Chinese Tiger, and Indochinese Tiger. One other species we should mention is the Liger. The Liger is a cross-breeding product between a lion and a tiger.
Tigers Are Endangered
It is a sad fact, but tigers are nearing extinction every day. The wild population of tigers is around 3 thousand some 9 hundred in the entire world.
There are many reasons for this. One of them is that they are being hunted.
Another reason is to note is the fact that forests and jungles are being cleared to make the land for humans, thus pushing tigers and their prey on the outskirts of land and eventually making them homeless.
Loss of prey and loss of habitat is why they are nearing extinction.
The only way this can be reversed is if we respect mother nature but we will let the experts deal with as well as provide any support we can for the cause.
It has also been reported that tigers attack villagers in the Bengal, so they hunt them actively.
Tigers Sleep A lot
Have you ever had a cat as a pet? Then you know that all they do when they're not ordering you around is laze around and sleep. Tigers are no different as they basically belong to the same root family.
An adult tiger sleeps around 15 hours daily per average. This is the same with lions. Well, we don't really mind as sleeping cats, big or not, do look cute, especially when they purr.
Other Big Cats In Africa
While Africa doesn't have tigers, it does have a big cat with spots on its body instead of stripes. If you guessed it right, it is the leopard and the cheetah.
Many people confuse the two for cheetah mostly (sad leopard noises).
Both of them look the same, but if you look closely, you'll notice that the cheetah has a brighter furr, and it has a pattern design of tears on both sides of its eyes.
You'll also notice that the leopard has a softish, spotty furr while the cheetah has a little bit brighter furr.
Conclusion – Tigers In Africa
Summing up, you can't find tigers in Africa no matter how hard you look. Tigers have never lived in Africa but, rather, they live in the countries of Asia. Tigers can't live in a rolling plain like the grasslands of Africa.
Tigers prefer to hunt in stealth as compared to the savage lion who goes right after the prey.
Tigers and lions are like oil and water as they'll never mix no matter what you do, so getting a tiger to live in Africa is a pretty big deal.
If you enjoyed this article, be sure to check out our other articles such as "Are sloths dangerous?", "Do ants have brains?", and "does toner damage hair?"