Those who are fans of Drake and have listened to his songs several times know his song in 2020 named "Laugh Now Cry Later". This song was released officially on 14th of August 2020. It was featured with Lil Durk. This song created hype and was nominated for a Grammy Award for Best Rap Song, BEST Award for Video of the Year and many more.
The song made by these two great artists Drake and Lil Durk was more than just a song. It was covering a whole story. A story of hate, love, regrets, everything goes by and much more.
What was the meaning of this song "Laugh Now Cry Later"? Why did they release this song? What was its meaning? Let's have a look in detail.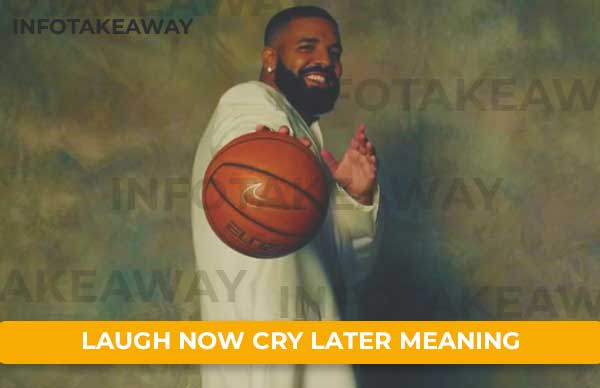 Song "Laugh Now Cry Later Meaning" History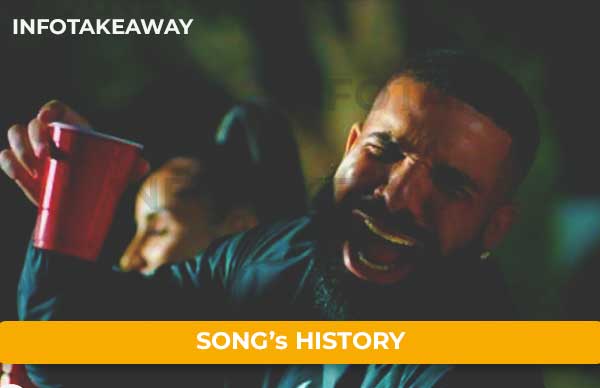 The song "Laugh Now Cry Later" was covered by Canadian rapper Drake and vocals of Lil Durk was also featured in this song. Two record labels named Republic records and OVO Sound published this song on 14th of August 2020. It was the leading song at that time.
Lil Durk & Drake wrote songs in which the leading rapper was Drake and featured rapper was Lil Durk, Moreover, Cardo, Alex Torrez, Allen Ponce, G.Ry , Yung Exclusive, Rogét Chahayed also took their part in songwriting.
This song also ranked itself on number 2 in Billboard Hot 100 and ranked number-one in Drake's own Canada. As mentioned earlier this song was nominated in many awards like Grammy Awards (2021), BEST Award for Video of the Year (20201) , Soul Train Music Award for Rhythm & Bards Awards (2020), BEST Award for Viewer's Choice (2020) etc.
Idea of Song "Laugh Now Cry Later"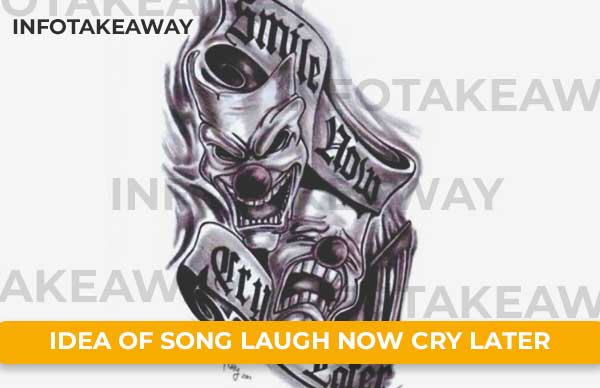 According to resources, Drake was inspired by the late rapper Tupac. He admired this legendary late rapper and so his rap songs. In art of tattoos, Tupac had tattoos almost on his whole body (besides Legs). Arm Tattoo, Chest Tattoo, you name it everywhere.
Tupac was having a colorful tattoo, more specifically it was a drama mask tattoo with a happy and sad face. Drake got the idea from the chest tattoo made on late rapper Tupac's chest written "Smile Now" and "Cry Later".
Production of Song "Laugh Now Cry Later Meaning"
This song's music video was filmed in Nike's world headquarters located in Beaverton, Oregon, USA. It was filmed in Nike's Biggest Headquarter having a Pool, Foot Ball Court, etc. It contains almost every heavy sports court.
In this music video, famous athletes also comes as an special guest with Drake. In the first scene a famous Basketball player comes on the scene Kevin Durant playing with Drake.
Moreover, American football players Marshawn Lynch and Odell Beckham Jr. also come in the scene where Drake is taken out in football by Marshawn Lynch.
Besides that Drake was doing shadow boxing in the depth of swimming pool, who know he might be acting like the legendary boxer Muhammad Ali.
Laugh Now Cry Later Meaning in Depth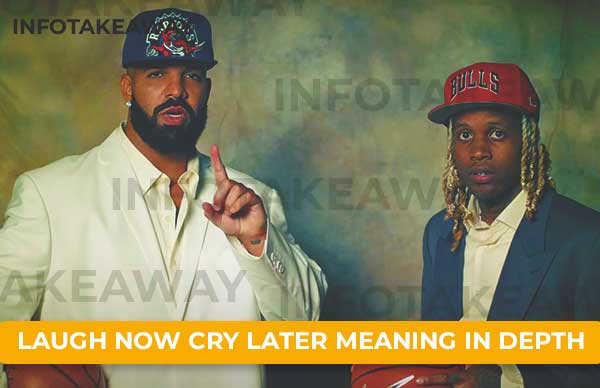 The song had a deep meaning in it. It was regarding Drake's story of how he is holding on to life right now. The things he has faced during his whole career specially the dissing from Kanye West who was his inspiration at one time.
Drake was kind of showing Kanye West and Pusha T that he has covered his victory lap against them and now he is enjoying his life at its peak. Moreover he has been blessed with everything. The message Drake was trying to give is that he is enjoying his life in front of everybody but everyone has their sadness within them which they show to themselves for a long time.
Drake in this song's music video was showing how happy he is and later on he has to deal with his pain and things.  The Official Music Video also shows some Famous athletes on the video. He saw how he is enjoying his way in Nike's Headquarter by playing heavy sports games e.g. football, basketball etc.
Let's dig deeper in Laugh Now Cry Later meaning in a form of verse of this song.
Laugh Now Cry Later Meaning in First Verse
Drake Ft Lil Durk this song's first verse is covered by Drake itself. In this song he is expressing his feelings towards the American Rapper Kanye West. Drake pokes American rapper Pusha T too on this song. The first verse is about how these two American rappers try to pull him down.
But Drake is tired of feuds with rappers. He tries to explain that he is tired of listening to their songs at parties whenever he is invited. Especially the songs "Ghost Town" by Kanye West and "Rolling Stones" covered by Pusha T.
Moreover he explained how he ended up signing in with the biggest brand in the world named Nike while Kanye West is with GAP.
Laugh Now Cry Later Meaning in Second Verse
Drake Ft Lil Durk in the second verse is also meaningful if we listen to it properly. In the second verse, they are talking about the rapper who has been called a rat by the rappers community.
The first rapper that would come in everyone's mind was Tekashi 6ix9ine. But Lil Durk covered the lyrics by mentioning Drake in it. Now they know better whether they did it intentionally or not.
Moreover, Drake resembles himself like American rapper DaBaby who shot a 19 year old man in self defense. Drake is trying to say I can handle it like DaBaby (not like shooting a person) and face any challenge in his life.
Laugh Now Cry Later Meaning in Third Verse
Third Verse lyrics are a bit different. On this Drake is talking about three things that happened in his life. The first thing he was trying to explain was that he owns Bentley and is very happy with it. The second thing he was talking about was how he helped the other rappers.
Third one is that he has a lady friend whom he can open himself to.. He is happy and blessed that he is trying. to say.
Conclusion of "Laugh Now Cry Later Meaning"
The song "Laugh Now Cry Later" covered by Drake featuring Lil Durk contains the message that you should be happy with blessings you have right now and think about your problems later in a long time.
You have friends, family and your passion to be happy, let negative thoughts be the least priority. Enjoy your moment to the fullest and always feel happy for the blessing you have.
Drake was talking about his own blessings that he has signed with the biggest company Nike, having a fan following globally and is trending. So besides thinking about other rappers like Kanye and Pusha T who are trying to bring him down, think about the blessings he has.
I hope you guys have a penalty of things cleared on this blog but still, if you have any question or suggestion, please let me know in the comment section.
Moreover you guys can check out my other blogs "Why is Water Refreshing?", "How to get rid of Small Black Bugs in the house?" and "What is the starting checking number?"