Are your children bored with the playroom wall decor they currently have? With so many options available, it's no wonder they feel that way.
From wallpaper to murals to wall decals and more, it can be hard to know which playroom wall decor idea will work best.
Fortunately, there are tons of great ideas out there to choose from; all you have to do is take the time to find them and consider your options.
Here are 10 of the most impressive playroom wall decor ideas we could find—and what makes each of them so great!
1) Colorful Chalkboard
Take your child's play area from drab to fab with this easy and inexpensive DIY project.
Chalkboard paint is a great way to spruce up a room, and you can use it for chalk art, writing encouraging words on the wall, or even organizing your weekly family calendar.
One of the coolest things about chalkboard paint is that it comes in lots of different colors, so you can match your color scheme to your room decor.
For example, if you have bright green walls then try using vivid blue chalkboard paint as an accent color.
If you want something more subtle then opt for light gray or cream colored paint instead.
2) Fun And Educational Bulletin Board
A bulletin board is a great way to teach your kids about the world! You can use it as a place for them to post their artwork or for you to leave messages for them.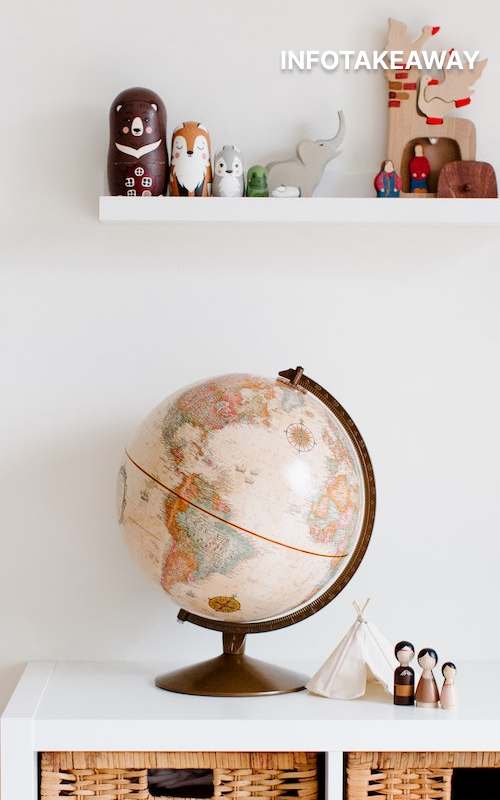 It's also a great place to talk about current events, what they did in school that day, and more.
Below are 2 bulletin boards that you'll want to take notes from on how to create an educational and fun wall decor in your child's playroom.
Free Printable Map of the World
This is so cool because it gives kids a visual perspective of where their country is in relation with other countries around the world.
From this map, they can track where they've been and where they want to go.
Earth Day Less Trash Poster
Teaching your children about recycling isn't just helpful for the environment, it's helpful for them too!
By recycling materials at home, they won't have to deal with excess waste when they get older. With this poster, you can remind them every day why we need to recycle and not just throw away our recyclables without care.
The Adventures of Winnie the Pooh Quote Board
We're all familiar with Winnie the Pooh and his adventures in Hundred Acre Wood. If your children love reading stories about Winnie the Pooh and the gang, then this is definitely something worth trying out. Use this board to display famous quotes from the book and make a small plot summary at the top so that your kids can understand it better.
Do You Speak American? Panel Board
America has such a diverse language landscape with over 300 languages spoken by its residents – which means there's plenty of room for misunderstanding and miscommunication!
If you don't know much about America's diversity but would like to know more, then this panel board is perfect for you.
3) Comfortable Bench Seating Area
If you're tight on space and have an open area near a wall, consider turning it into a comfy bench seating area.
This is perfect for reading time, storytime, or snuggle time. You can find all kinds of benches at stores like Target and HomeGoods.
They come in all shapes and sizes to fit any space.
If you're feeling crafty, it's easy to make your own with some lumber and basic supplies that you can find at any home improvement store.
Paint the bench in whatever color fits your room. Add pillows and throws to match the rest of the decorating scheme too!
4) Smart Storage Solutions
Kids are messy. They love to create, but they often don't know how to clean up after themselves. When you have a lot of toys, books, and games in your playroom, the mess can grow out of control quickly.
One way to manage the chaos is by creating smart storage solutions with items from around your house or with simple purchases at a home goods store.
For an added level of fun, try mounting some open shelving units on the wall as well so that children can reach them without any help or climbing.
5) Kid Art Display
Kids want to feel special and important in their own playroom space. One easy way to make them feel this way is to display their artwork on the walls. Here are 10 ways you can do so:
Cut out a piece of white poster board or cardboard, then tape your child's artwork onto it and hang it on the wall.
Make a shadow box with a clear plastic front and back, place your child's artwork inside, then place it on the wall for an instant personalized gallery!
Hang up some plastic canvas with wooden hooks in each corner that you can use for displaying children's artwork like paintings or drawings.
Create mini canvases using coffee filters and Mod Podge. Let your child pick out paint colors and decorate the coffee filter according to their wishes. After they dry, spray them with acrylic sealer from one side, let it dry overnight then flip over and seal from the other side.
Create a gallery wall of framed artwork hung up at different heights around the room—depending on where each person is able to reach when standing next to them—so everyone gets equal time admiring all the different pieces created by kids in your family.
Create fabric frames by sewing scrap fabric together around an embroidery hoop; add artworks inside (either drawn directly onto fabric or transferred from paper).
Another idea is to create a small shelf near your window and put out one-of-a-kind sculptures made by kids.
Turn old picture frames into something new with adhesive foam sheets! Paint them any color you please and adhere paper, fabric, or stickers from magazines into the middle.
Attach a wire hanger to the back of a frame so you can hang it on your window sill.
Purchase small picture holders that come in packs of two – attach them onto your wall vertically, horizontally, or even diagonally – then simply fill them with colorful pictures taken by kids
6) Mix Of Old And New Toy Storage Units
An old toy chest or dresser can be the perfect place to store your kids' toys.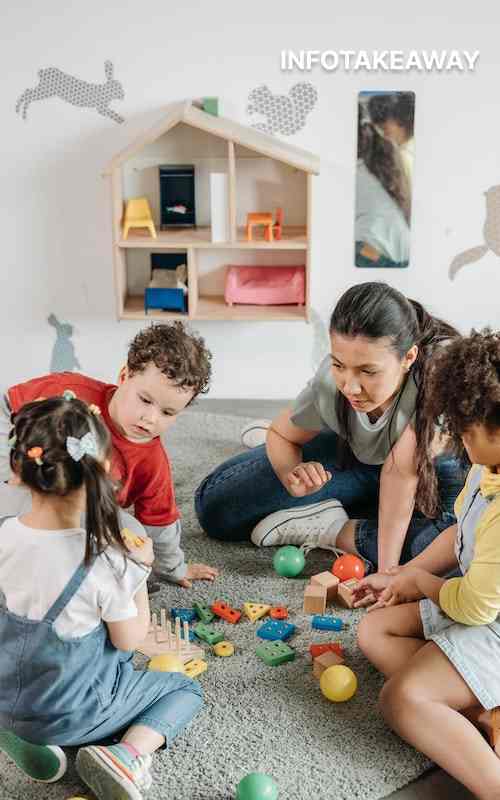 As long as you're willing to put in the time and effort, you can use paint or decoupage techniques to transform it into a unique and functional piece of wall decor.
A display shelf is also a great option for storing toys. To do this, all you need is some wood boards that are cut to size and a metal bracket (that's screwed into the wall).
Make sure that each board is at least two inches longer than the height of your shelf before cutting them down.
Then, drill holes in the top of each board so they line up with one another when placed on top of one another.
Next, screw the brackets into the wall studs where you want your shelves to hang. After that, stack your boards together and screw them together from behind using more brackets and screws.
Lastly, attach your shelves by sliding them onto the brackets from below.
Use an antique mirror for added effect: Not only does this provide a glimpse into what goes on in the playroom but it will also add sparkle and shine to any room.
Some ideas include attaching strings of beads around its frame or hanging strips of fabric along its sides like curtains.
7) Removable And Wipeable Chalkboard Paint For Walls
Who says you need to be a painter in order to decorate your walls? There are a number of ways to make your wall look as good as new with just a little bit of effort.
And one of the easiest and cheapest is removable and wipeable chalkboard paint for walls. It's so easy, it almost doesn't feel like work!
8) Bedside Nightstand Storage Bins For Storing Toys At Night
One of the best ways to keep your kids' playroom organized is with a bedside nightstand storage bin. These containers can be placed on either side of the bed and used as a place to store anything from toys to clothes.
They will also help your kids feel like they have their own little space that they can call their own.
This is especially helpful if you live in a smaller home or apartment, as it will give them more room to roam!
It's important to note that you should always make sure that these bins are secure.
Otherwise, there's a chance that someone could trip over one and injure themselves, or even worse, get into something dangerous.
9) Hideaway Bookshelf Closet Storage Solution
A hidden bookshelf closet storage solution is a perfect addition to any playroom, bedroom or library.
These shelves are cleverly disguised so that they look like a regular closet when closed and come complete with hanging rods for clothes.
The shelves can also be used for shelving or storage for toys, blankets, and other items.
The best part about this space-saving design is that the door swings both ways to provide easy access from either direction.
10) Felt Board Wall Decals
If you want to make your child's playroom a little more interactive, then we recommend making a felt-board wall decal.
You can purchase the felt and craft supplies from most arts and crafts stores, but the options for the pictures are virtually limitless.
You can print out pictures from websites or books, take photos of your kids' drawings, or even use family photos.
To make it easy for you to follow along with us, here are the steps that we took in order to create this project:
Find a design on Pinterest that you like and download it onto your computer as an .eps file.
Print out the design onto a piece of white poster board using regular printer settings.
Cut out the pieces of paper, leaving at least one inch around all edges.
Put glue down on one side of each piece and stick them to the wall in a grid-like pattern.
Cut strips of felt fabric so they're long enough to cover up the white poster board when taped over top of it (don't cut too wide). Place glue down on one side and start taping them up around the perimeter.
Conclusion
You don't have to spend a fortune to create a space that your kids will love. With these ten easy ideas, you now have a plethora of things you can do to create an awesome playroom wall decor.
Also, check out "unique wall decor", and "Halloween wall decor".