DoorDash is one of the best food-delivery apps in the United States and it is up there with Uber Eats. It has been increasingly becoming popular over the day and is now operating in the states, Japan, Canada, and Australia.
Now one might ask, "Is DoorDash safe?", it certainly is as it follows a lot of security rules and implements them in the app.
Whenever we use a food delivery service, we are afraid that it might not reach us on time, or the food might be tampered with. I don't want anybody except the chef to be touching my food.
Doordash is safe when it comes to handling food. DoorDash makes sure that our food reaches us as quickly as it can and without being tampered with.
It also helps a lot that the process of using DoorDash is pretty simple. First, you install the app, then add your delivery address and choose a restaurant shown to you based on your location, order your food and then wait for the delivery drivers to come to deliver your food.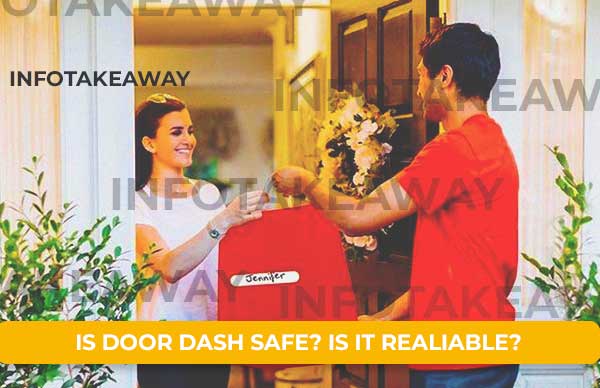 What is DoorDash?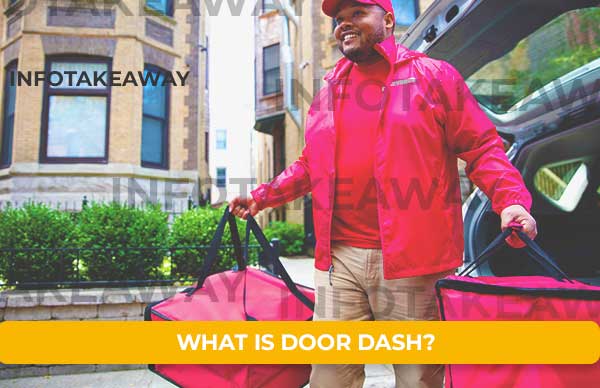 DoorDash is a food delivery app that started in San Francisco, that users can use to buy food online from nearby restaurants and have it delivered to their homes or office.
DoorDash's main office is situated in San Francisco and it is now operating all over the United States, Canada, Australia, and Japan.
DoorDash makes it possible to order food without having the need of finding the phone number of a specific restaurant and asking whether they deliver in your area.
DoorDash is very simple to use, you just have to find the restaurant you want to order from, select your items, and then enter your address for your food to be delivered.
DoorDash charges its customer delivery fees and it can range from 1 to 5 dollars, depending on the amount of peak at the time of placing an order.
Note that Doordash doesn't accept cash payments and it has never accepted them in the past. You have to make your payments through either a credit card or a debit card.
DoorDash is also a good option if you are looking for a side hustle to earn some extra money. You can sign up to become a DoorDash driver, which DoorDash calls a Dasher, and you can work on your own time, whenever you want.
In addition to getting a base amount per delivery, Dashers are also paid for the amount of distance they covered, and whether there was a surge in the area they are delivering.
Doordash is very safe as it requires a background check of the Dashers, ensuring the safety of both the customers and the Dashers as well.
Is DoorDash Safe for Customer?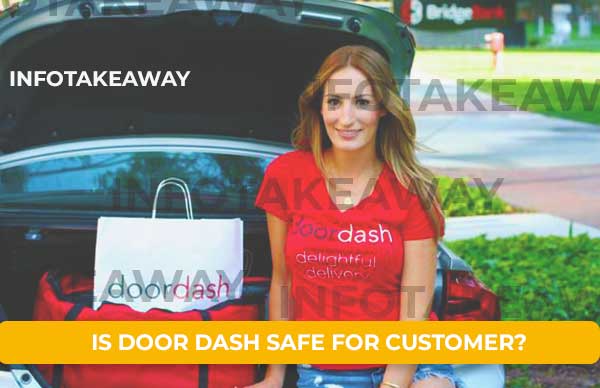 Have you ever ordered food late at night or at some remote place and you are worried that the delivery guy might do something to you?
You might also be worried that the app might charge you extra money or that the food that arrives is not what you were guaranteed by the restaurant.
Well you are absolutely right for being concerned about your safety and there is nothing wrong with that, instead, it is best to do so.
DoorDash is safe to use if you keep in mind all of the above-mentioned scenarios.
Let's talk about Dashers, who deliver your food. DoorDash doesn't let just anybody become a driver on their platform, they do various security checks.
For instance, DoorDash does a background check of every Dasher before letting them on their platform so you can rest assured that a normal person is delivering your food.
When it comes to food, DoorDash also makes sure that every restaurant that it affiliates with, puts a seal on your food so you know if it has been opened or not once it was handed over to the Dasher.
If your food package seal appears to be broken, you can take a picture of it and send to DoorDash support and they will refund you the amount.
These were aspects of safety we discussed that DoorDash takes but know that there are people out there who are looking for opportunities to scam people. You, as a customer, also need to make sure of your safety.
Using DoorDash as a Robbery
Let's say you didn't order anything but someone comes up to your door and says they are from DoorDash and that they have your food. Don't think that they mistakenly came to your location and simply open the door for them.
There are many instances where the Dashers simply get the address wrong but there are also many sinister instances.
For example, a woman reported that someone had come to their door saying they were from DoorDash but she knew she hadn't placed any orders. She checked the camera and saw two men coming up to her porch.
The lesson we take from this is don't open the door for anybody unless you know they are the delivery guy of DoorDash. Always respond through a locked door.
Now you know the answer to "is DoorDash safe" as a customer so make sure you take care of your safety.
Is DoorDash Safe for Dashers?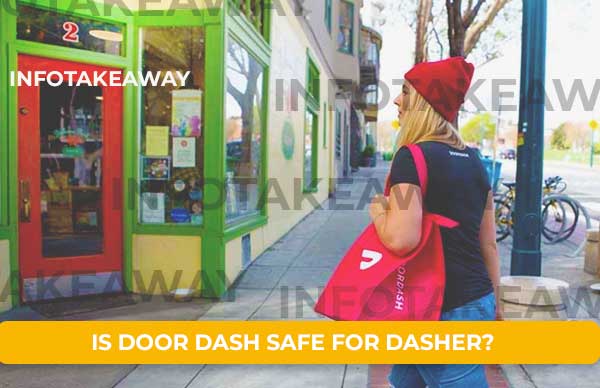 Working for DoorDash is a great option if you want to do a side hustle and earn some extra cash.
You can become a DoorDash driver, by using the following information:
You should be 18 years old or older.
You have to provide your Name and Email.
You need a car or a bike.
You must have a driving license
You need to provide your social security number if you are in the united states.
You need to agree to a background check.
Many people think that DoorDash shouldn't ask for a background check but this is for the safety of the platform and its' customers. They will not do anything with the information you provide them except use it for security purposes which will be mentioned in their legal documents.
DoorDash pays Dashers on a per delivery basis and in addition to the base price, the pay is also calculated based on the amount of distance you travel and time of day.
If you are still thinking "Is DoorDash safe", then here are some ways your security can be compromised. There are some frauds that you need to be aware of as a gig worker and dasher at DoorDash.
DoorDash Scams
While DoorDash itself is a safe platform to use and work for, there are many people who are looking for opportunities to scam people. If you work as a Dasher for DoorDash, you might be at risk of a phishing attempt.
Phishing is a type of hacking attempt where you receive an email that includes malicious links and if you click these links, the hacker can gain access to your bank accounts.
Note that this only happens if you click some link in the email, not by opening the email. Always make sure that the mail you receive from DasDoor is from their original email address.
Another type of scam is someone will call you pretending to be a DoorDash customer service rep and they will make up a story such as that you are being rewarded for your work.
The scammer will then ask you to send a pin code so they can verify your identity and send you the proceeds. Never send anyone any sensitive data such as passwords or pin codes as DoorDash will never ask for them.
Even if DoorDash was rewarding you, they already have your bank details and they will do it directly by sending you the money to your bank instead of telling you to provide them your pin code or password.
Always be wary and make sure that no one is trying to put fraudulent charges on your account. If you find some fraudulent charges on your account, contact DoorDash support as soon as possible.
How is DoorDash Pay calculated?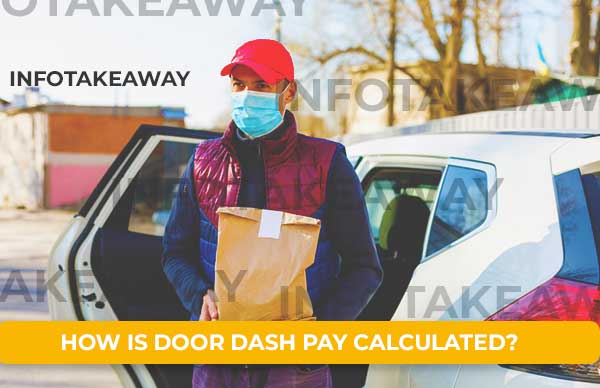 Door Dash is the best platform to start your journey as a food delivery drivers. Food delivery drivers can earn a minimum of 10 dollars and up to 25 dollars on each delivery. It is a secure platform as a driver app.
We're going to break down the payment process.
Base Pay
In online platforms, there is always a base payment given to the delivery driver (current employee of a demand delivery service app).
The base pay is also paid by DoorDash too. The delivery workers who deliver goods to valuable customers got their base pay.
Tips by customers
In this delivery platform, the best option is given to customers is that they can give tips to the DoorDash drivers. Customer tips makes an important role in the pay of the door dash driver. The demand delivery service predicts that tips are mostly paid by customers to those door dash drivers, who deliver products on time.
Another thing is location. Customers sometimes point to a location that is not recognized by Google. So dash door drivers arrive at the wrong address. The customer is waiting for the order while the delivery driver is still searching for a place.
The delivery to the wrong address is one of the points due to which customers don't pay tips. Try to reach the accurate location given by the customer. By that customer will be happy and give you tip.
Moreover, try to keep your customer ratings high as possible. Because customers will trust a person who is trusted by other customers. So instead of starting the phishing campaigns, try to work honestly.
Promotions
This is made by the Door Dash Company. They will make peak factor in the application due to which DoorDash driver will get more payment than the normal delivery. Peak factor gives you extra cash to DoorDash Driver on each delivery.
Another step taken by this legitimate company is that makes some tasks. The one who performs it, rewarded with extra money. You can get additional money by completing the tasks.
Here's a tip to get extra money and optimal health. Try to work in odd hours.12am-5am times are the best to increase your money. Daytime hours are good but still, you should set your time gig. 
Dashboard for tracking payment
Door Dash Company made a dashboard for its DoorDash drivers. The navigation options in it give you complete track of your payments and orders done.
It has a user-friendly interface so you can easily use it.
What is the payment transfer policy in Door Dash Company?
The transfer policy of your payment is categorized into 3 methods only in the United States. Rather than the United States, you get your cash directly into your bank account. Withdrawals from bank accounts are easy.
Moreover, in the United States, you can deposit your earnings on daily basis through Dash Direct. You will not be asked to give any bank account. But still aware of the unauthorized user if you are using this type of method to receive your money.
There are no unauthorized charges or hidden charges in it.
If you don't have a Dash Direct account, you can get your money instantly through this option. A small fee is charged on it.
Advice for customers?
Never ever share your personal valid email address, user passwords, or any other sensitive information with anyone. It is common that in online scam, customers gave their consumer payment cards number, credit card details, etc.
The scammer will say that charges on payment cards should be below, tell us your consumer payment cards number. The time you gave this information, you will be spammed.
Security experts say that always remember never ever share details of your credits cards.
Either it's 1st credit card or 2nd credit card. They will ask you digits of consumer payment but don't tell them. Always work with common sense. These are common scams.
FAQs of is DoorDash safe? is it reliable?
A lot of people asked questions that are normal to ask. Some questions are answered briefly below:
What is a contact delivery?
Contact delivery is a type of delivery in which customers directly picked delivery from doordash drivers. It can be on the customer's current location or any other location.
What is contactless Delivery?
In the COVID-19 Panademic situation, everyone is conscious about their health. To avoid health risks, both customers and DoorDash drivers are not supposed to meet the "sharing option". 
Instead, food containers or other delivery product is delivered to a location rather than giving it to a customer. Safety of couriers is a priority too but so as the health risks of both parties.
Is there and "Sick Leave Policy" for DoorDash drivers?
No DoorDash Driver is not an employee of Door Dash. The delivery company is making partners who are riding their own vehicle to earn money. That's why they are called Dashers. And no there is no such "sick leave policy".
Dasher can work anytime he wants to. Demand for food delivery increases in odd hours, so it is best for dashers to complete deliveries at those times to get extra money.
What type of user data exist in -DoorDash App?
Type of user data exists in -DoorDash app is the data of Delivery Driver (Current Employee), Customers, Admins, etc. unauthorized user got banned.
What kind of precautions are made to control COVID-19 Pandemic?
To control COVID-19 Pandemic situation, contactless delivery is made. Hot bag safety protocol is practiced too during COVID-19 transmission. It is performed under public health authorities.
What are the criteria to become Dasher on Dash Door?
In order to become a dasher you must :
be 18 years old or older
have a vehicle (cycle works too)
have a driving License
have Social Security Number (Only for the United States)
Conclusion of  Is DoorDash safe? Is it reliable?
DoorDash is the best food delivery app. This app is using a valid driver. They also check the record of Dash (criminal records etc.). This application is protected by security protocols. The protective security layers of this application are not easy to break or deal with.
You can save yourself from common scams, online scams if you follow the advice. There are no unauthorized charges made by this app. All the things will be shown in the details of the charges.
So it is still rising and competing Uber-Eats. So relax and enjoy your food at your doorstep with DoorDash during the COVID-19 transmission.
We hope you like our content on DoorDash. If you have any queries, ask us in the comment section, we'll be happy to answer.
Moreover, check out our other blogs, "What is Payment Revision Needed (Amazon)?", "Does John Cena have Kids?", "Taurus and Gemini Compatibility in this World?".