Acrylic overlay on natural nails is one of the best ways to enhance the natural beauty of nails. There are also nail polishes that do the same job but both are different and should be used in different scenarios. Let's discuss the details of acrylic overlays.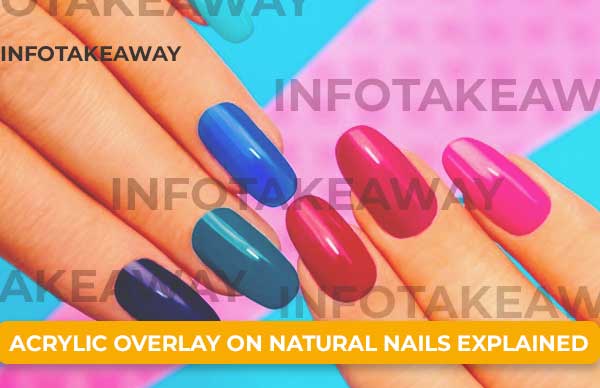 What is an Acrylic Overlay on Natural Nails?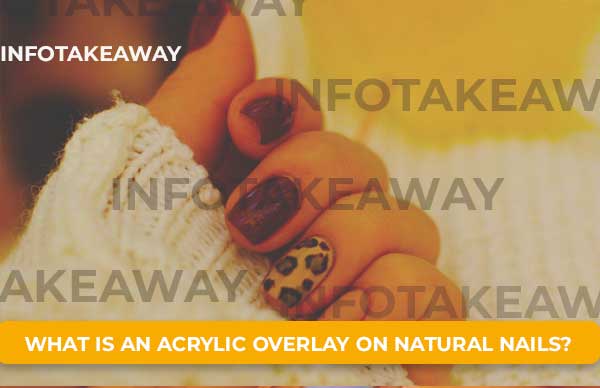 The concept of nail enhancements is ancient. Acrylics are normally used to make your nails stronger and longer. Sometimes a base coat of gel nail is applied on the natural nails as a protective coating for having a smooth nail surface.
These are long enough, so it is not necessary to extend them with the nail tips. This protective layer makes nails stronger and allows nail polish to stay longer than two weeks. The acrylic overlay has a very natural look as compared to the acrylic over the set, which is fake nails.
It doesn't have additional tip thickness, so the people who want a natural look should go with it. One of the most common problems that people do face is that one of their nail tips breaks or crack, and then they are unable to have a uniform entire nail plate.
This cracked tip looks weird among all. Here acrylics help you. You can simply apply it to your natural nails, and it will minimize the chance of tip crack, and you can maintain its uniform length. Those who want to have their nails a little longer than the nail tip can apply acrylic coating on them for strength.
Another problem is that some people have thin nails that easily break off. Sometimes this break goes deeper than even bleeding starts. The solution is the use of acrylics as protection against harm.
The acrylic overlay doesn't add length to your natural nail, but if you want to add artificial length to your nails, then you should go with an acrylic full set. If you do two to three fill-in intervals, then it can even last three months.
You can simply put the gel polish on acrylic overlay and have any of the nail art on your natural nails as you have on an acrylic set. Some of the bad aspects are also associated with it, and it can be avoided if precautions are taken.
For example, it is believed that acrylic overlay causes thinning of your natural nail. Your natural nails become dry and brittle after the removal of the acrylic coating. But it is very temporary, and you will see your nails grow back within two to three weeks after removal.
Some of the nail salons charge the same for acrylic overlay as they charge for an acrylic set, although there is no addition of tips in it. The shaping or trimming of your natural nails takes more time as compared to providing them with the artificial already shaped set. You can have designs on overlay nails with stunning colors. You can also have a choice of color with Acrylic powder color.
What are Nail Overlays?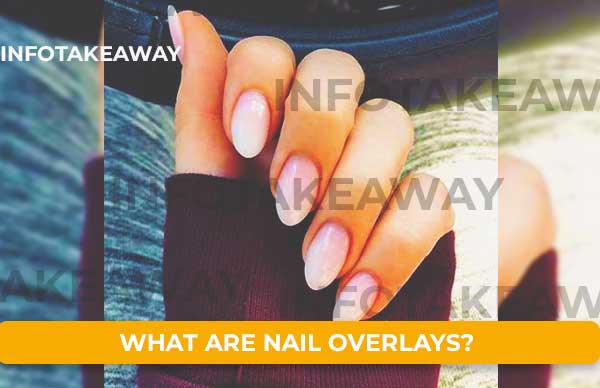 Nail overlays are any additional coating of the color layer provided on your natural nails. Color coating is not always meant for adding length to your nails.
The color kit is applied for various purposes such as color uniqueness, strengthening them, or providing an additional coating so that your natural nails are not harmed.
Most of the time, it may be in the form of acrylics or any gel overlay that promotes your natural growth. Your nail paint, artificial material, or any nail art that you are having on your natural nails can also come under the category of nail overlays. In overlays, you skip the step of nail extension.
It is directly applied to your natural nails and then shaped by hand to provide it with a glossy look. These gels are long-lasting and tend to be more expensive than acrylics.
It is a choice for people having short damaged nails, but it tends to damage your natural bed and give an artificial look.
Those overlays can easily be removed after two to three weeks, but for the sake of the health of your nails, you should not try to remove them at home.
Are Nail overlays better than gel nail polish?
Yes, overlays are better than gel nail polishes. Gels are alternative to acrylics. Gel nail overlays are stronger and don't become yellowish and crack easily as compared to acrylics. Also, gel nails are thin coating or polishing that don't provide strength to your nails, but overlays will play a protective role for your nail damage. It also helps in the growth of the nail naturally.
Gels cause nail brittleness, and their regular use can cause skin cancer even. Also, your nail peeling and cracking can be frequent with it. But acrylic damage is temporary. Once you remove it, your natural nails will resume back its texture within two to three weeks.
There are many different types of nails in the nail industry so make sure you choose what's best for you.
What is Acrylic Overlay?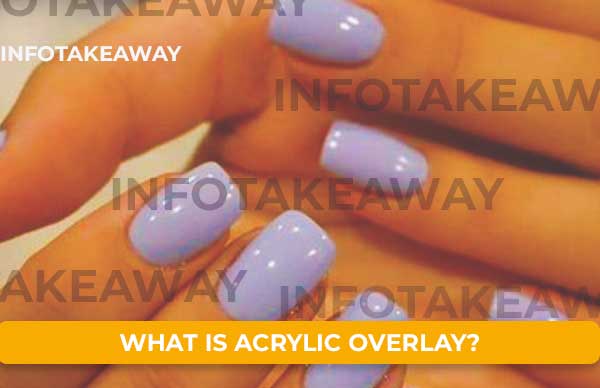 Acrylic overlay nails are one of the additional coatings that you provide to your original nails for making them healthy nails. They are of two types. One is the acrylic set which is an opportunity for those who wish to have their nails a little higher than fingertips. The acrylic set provides False nails to your nails and increases length.
On the other hand, the acrylic liquid is meant for a natural look. It does not add additional length to your nail tips. In general, acrylics work by strengthening your nails and help in nail growth for those who have short-damaged nails.
Sometimes your nails are not strong enough to bear a crack and break one of your nail tips. As a result, you remain unable to maintain the uniform length of your nails. Here acrylics will help you in a way where they provide additional strength and don't allow it to break frequently.
There are some side effects of using acrylics, but they can be removed with some considerations. Damage is temporary, and your natural nails will be back after two to three weeks.
Pros of Acrylic Overlay on Natural Nails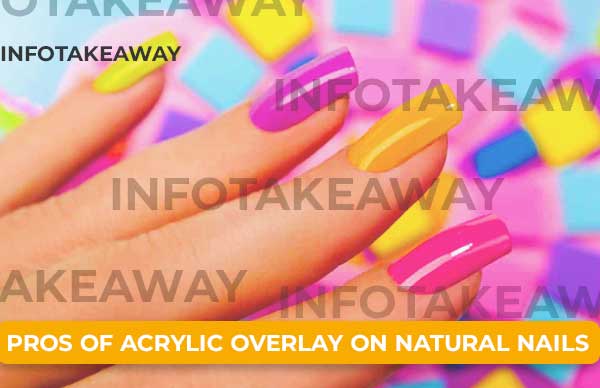 There are various benefits of using acrylic overlays, such as they are thinner, lighter, and give a very natural look. Also, it adds length to your nails, and you don't need to add additional nail tips to it.
The damage caused by the acrylic overlays is very temporary, and your original nails will resume back their shape and texture within two to three weeks after the removal of the acrylics.
Some of the alternatives are also used for this purpose, but they are damaging to such as extent that in addition to damaging your natural nail, they can cause cancer even.
Cheap:
It is very surprising to know that they are affordable products, what's more, an acrylic overlay is a long-lasting product.
You can simply get the service from a good beauty shop without breaking your banks. You need to pay $35 for the full set, and for re-filling, just pay $15 and get an entirely new look. There are some discount salons for brands of nail dipping where you can have colorful nail treatments.
Less harmful for the nails:
Acrylic overlays are safer to use for the worker even as they don't contain harmful chemicals and fumes. The acrylic application can be applied easily and removed. It has a porous texture that doesn't weaken your original nails. Rather it provides strength and aid in growth. Also, they have a realistic appearance and don't become yellowish with time.
The health of your nails comes first, and these acrylics provide a chance for nail repairs and resume shape and type of nails. With other coatings, your nails get permanent damage, and on the peak, it may cause skin cancer. So you should be picky about your decisions.
Easy to remove:
For this purpose, there is a kit for nail dipping. It is very easy to remove acrylic material, and even you can remove them at home. All you need is 100% acetone in a try and dip your nails in it for five minutes.
Now pick up a pusher or Acrylic Brush and move acrylic coating from cuticle oil downwards. It will peel off the outer coating. Again soak your nails in a try for five minutes and push coating downward. Repeat the process until all of the coatings are removed. It should come out without applying a lot of pressure.
Repeat the process of soaking and peel it easily. You can also perform it another way. Soak a cotton ball with acrylic nail paint remover and put it around your nails. Now wrap aluminum foil around it and let the soaking process begin. The technicians use the process so you can perform it at your home easily. You can also Dip powder kits. A Nail Drill can also be used.
Acrylic nails are stronger and long-lasting:
These nails are very stronger, and you can easily repair them at home if faced with crack. However, it is recommended to seek a technician regarding nail issues.
Cons of Acrylic Overlay on Natural Nails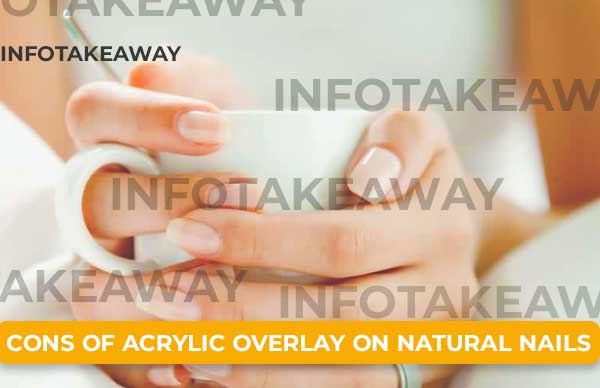 Although Gel coatings are a perfect choice, there are some negative impacts of using this coating despite being protective.
Sanding and buffing, it can cause thinning of your nails. After removal of acrylic powder, it causes temporary damage in the form of dryness and brittleness. If the extension step is done in a poor way, then it can be damaging for you.
IT can cause fungus infection. While applying, it produces a strong odor that can be harmful to you unless you are in a ventilated area. This service is hardly available in America. You will not find beauty shops providing this service easily.
Not recommended for Pregnant Women
There are various comments about acrylic nails. When you are pregnant, you take every step with a lot of caution and care. Although there is nothing wrong with using those Creative Nail Designs during pregnancy but it can cause you damage if not done properly. Those harmful fumes or UV light can cause you damage.
For this purpose, it is recommended that you should go to a technician for application also you should be in a ventilated place to avoid trouble. Great exposure to these fumes can cause nausea and other sicknesses.
Also, you are likely to be more sensitive to those chemicals during pregnancy. You can develop an allergy or a fungal or bacterial infection in or around your nails. Removing acrylics with acetone will can also harmful.
If you are worried about your nail health, then you can fill them and will have a natural look as a result. Inhaling those fumes on a daily basis can harm your baby, and you are likely to have a miscarriage. Use of mask during application and being in a ventilated place and reduce your harm.
Acrylic Overlay can cause dermatitis
The harsh chemicals can even cause an allergic reaction, such as allergic contact dermatitis, even if they are applied professionally. Methylmethacrylate was reported as a cause of dermatitis in 1949. It is a fungal infection known for causing face, palm, and fingers dermatitis.
Acrylic Overlay can cause nail damage
Obviously, you are providing your natural nails with artificial nails. Reapply an additional coating, and it will impact the natural nail bed in any way. The same goes with the acrylic overlays, which can damage your original texture. You are likely to develop a fungal infection and nail thinning. After the removal of coating, your real nails will become dry and brittle. However, the chances of damage further increase if it is not done properly. Applying for those extensions at home can be risky. The harmful fumes can cause damage to you, and you can develop nausea.
Do Acrylic Overlays on Natural Nails Last Long?
Acrylic overlays on natural nails can stay for 2-3 weeks to strengthen your broken nail. In between, if you face some cracks and breaks in your nails, you can simply fill them, and there is no set to change the whole set. Sometimes this natural nail overlay can even stay till three weeks if done properly. Getting it at home can not provide you with productive results as compared to nail salon professionals.
Conclusion – Acrylic Overlays on Natural Nails
We had a detailed discussion on the acrylic onto the nail bed and especially regarding acrylic nail overlays. Acrylic powder overlay nails can provide you a very natural look compared to the acrylic set, which adds nail extension at the tip and presents artificial nails look.
Also, Acrylics overlay nails are cheaper than any other coating, and you can have a beautiful design over them. Most people have thin and brittle nails naturally, and they are just struggling to maintain their uniform nail length.
Here acrylic overlays help you by providing them strength to weak nails. You can even apply nail powders or remove them at home, but to be on the safer side, you should contact a nail technician. Although overlay nails have benefits, it also has many harmful effects, such as artificial nail enhancements causing nail infection. The worst among all is developing a fungal infection on the entire nail or dermatitis to your nail bed.
Also, it is not recommended for a pregnant woman because it can cause damage to the fetus even via those harmful fumes. Still, if you want to have them, you can have nail treatments with some consideration to avoid the damage. There are some acrylic nail myths.
If you have any suggestions, let us know in the comment box. Go checkout our other blogs on topics of "Do Rottweiler Shed?", "Is Sour Cream Gluten Free?", and "The Best Phones Under 500 Dollars".